York Campus News
In this section I hope to bring up to the minute (well month maybe) news of things that go on round campus. The information superhighway - keeping YOU in touch with the pointless ramblings of some bozo in a provincial university
Castle Gormenghast Product Boycott
Due to a recent (as of May 6th anyway) advertising campaign by KP we would urge all conscientious consumers to boycott their product post haste. The reason...
February 14th 1995, champion of consumer rights Mr. Allan Pants (BSc Hons) sends the following letter to KP:
---
Dear K.P.,
My wife Lucretia and myself recently sat down to enjoy your new "Hula Hoops" potato snack-food. Imagine our dismay upon opening the snacks to discover that the centre sections of all the snack-type objects had been carefully and deliberately bored out. My scientific training allows me to calculate that this is some 70% of the volume of the foodstuff which is in fact missing from the packet. This removal of foodstuff we found most unsatisfactory.

Later, my wife pointed out the legend "Potato Rings" on the packaging - however, the printing was cramped and difficult to make out. If this is intended as a consumer warning then perhaps it would be prudent to print it in a larger typeface. Also the design on the packet featured what we assumed was an abstract pattern but is in fact an illustration of the packets contents. Were you to put some marking on the packaging to indicate that this is the case, for example, "Snack food looks like this", then we feel such misunderstandings would be prevented in future.

In the light of the considerable distress which this unfortunate chain of events caused to my wife and myself, we feel we are due some form of recompense from your company. Could you supply us with either appropriately shaped potato bungs to fill in the missing portions of the snack food or sufficient remuneration to buy some other product from your range which does not suffer from the design flaws inherrant in the nature of Hula Hoops.

Thank you for your time.
Yours faithfully,
Allan Pants (BSc Hons)
---
Their response was a letter of apology and some tokens to the value of one pound fifty.


A letter and some tokens yesterday

Mr. Pants (BSc Hons) was more than satisfied until he saw the following advertising campaign (info copied from side of packet).

---
WANTED: information leading to missing holes!
It has come to our attention that some Hula Hoops have had the hole stolen from them and as a result they have become holey (sic) unsatisfactory. We believe this to be the work of the arch criminal..... (etc etc)
---
It appears they are running a competition based on Mr. Pants' (BSc Hons) complaint with no mention of his, or his wife's, contribution. In retaliation for this clear injustice we ask you to boycott KP products and to write a letter of complaint to them at the following address.
KP Foods Group, PO Box No. 4, Ashby-de-la-Zouch, Leics, LE65 2UQ England

If you wish to support Mr. Pants' (BSc Hons) campaign then send email to the usual address and mark your email "For the attention of Mr. Pants (BSc Hons)"
Exciting Mailer debate continues
Whoever said that nothing exciting ever happens in York? york.talk, a fascinating local newsgroup has come alive with the hugely exciting Mailer debate that everyone is talking about -- the burning issue "Is PINE * better than Mail ** ?"
Opponents, of PINE point out that it's a bit big and you have to press buttons and also look at the word "Washington" whereas its defenders say "So what?". More news on this rivetting debate if I stay awake long enough to read it.
Do you have an opinion on which mailer is the best? If so then mail it to djmc100@unix.york.ac.uk and don't forget to mark your email "A mod, in the 1990s? hahahaha". Next week: Why MicroEMACS is better than vi
tisn't
tis
tisn't
etc

* PINE is probably a trademark of someone.
** Mail might be too but I doubt it.

More News About News (Photo Story)

Members of York University's Computing Service Staff react to the rumours that york news is to carry alt.pictures.binaries.erotica.* and alt.sex.*
Video Player Returned to Shop
In a shock move yesterday (January 25th) Mr. Simon Trafford returned his video recorder to the rental shop. The video recorder had been unused for over three months since the arrival in the house of a superior model VCR owned by a Mr. Pete Fenelon . Mr. Trafford's decision to keep the surplus VCR although seemingly due to ineptitude and procrastination can now be revealed to be part of the VideoKleen 2000 project. Theoretical models predict that an ordinary household carpet can be simply and quickly protected from unsightly dust build up by placing over it an ordinary household VCR machine. Mr. Trafford's farsightedness has led to the first experimental confirmation of this theory - the carpet under the VCR was significantly cleaner than the carpet not under the VCR. By an extension of this principle it will be possible to avoid the need for costly, environmentally damaging carpet cleaning processes.
When I didn't ask him about the project, Mr. Trafford didn't say "I'm convinced that governments will leap at the chance to fund such an important project and will shortly be seeking funding to hire 100 VCRs in an attempt to keep a large section of carpet clean for an extended period of time."
If you wish to fund Mr. Trafford's heroic VCR hiring experiment then send email to the normal address and don't forget to mark your email "More money than sense".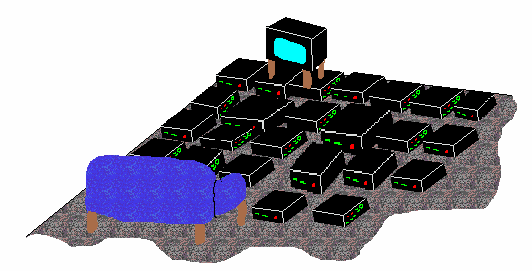 A non-artist's impression of what the VideoKleen 2000 project could look like if the necessary funding is obtained.
Local lottery winner
Prominent web personality, Mr. Richard Clegg, became the latest jackpot winner in the UK's new(ish comparesd with the rest of the info on this page) National lottery. The amount of the win is believed to be in excess of 9.99 pounds. Mr. Clegg is on record as saying "I won't let it change my life and shall be continuing to not go to work." We were hoping to bring you a gif of the cash prize but unfortunately Mr. Clegg has already recklessly blown the win on sticking plaster, lip-salve, diet pepsi and anti-septic.

A non-artist's impression of what that amount of money might look like had it not been spent. Readers are reminded that it is an offence to take hardcopy of this and try to spend it in the shops. Applications for the post of staff artist to the usual address and mark your email "No life".
News about News
Always the first to bring you news of news we can reveal that York Computing Services has made the controversial decision to begin a usenet news-feed. In order to prevent over-loading of the news-feed they have, very sensibly in this writer's opinion, elected only to get incredibly tedious news groups and none of those really popular alt. ones about sex that sound so promising but turn out to be really dull actually. It is hoped that this policy will discourage frivolous use of news for the purposes of reading it. When I didn't ask him about it, Mike "Mr. Blobby" Brudenell (the new news supremo) didn't say, "We at Compserv feel that interesting things would be against the spirit of York University and might lead to increased computer usage which would make our jobs much harder".
Mike Brudenell, yesterday.
Things of even LESS relevance are on my OLD NEWS page .
---

Back to my home page.
---
WARNING: this may be an OLD version of this page.
You could find an updted version of this page from my new homepage